News & Events
Installation Dinner 2017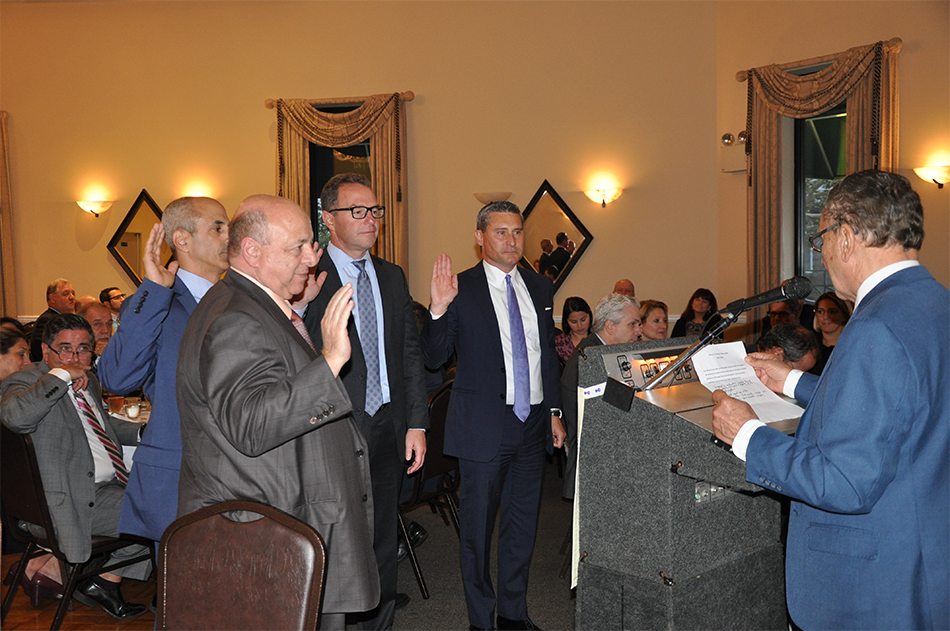 The men being sworn in are L-R:

Thomas A. Tarro III- Treasurer
Charles A. Pisaturo- Secretary
Richard L. Gemma- Vice-President
Ralph R. Liguori- President

Oath of Office Administered by Hon. Frank Caprio – Chief Judge Providence Municipal Court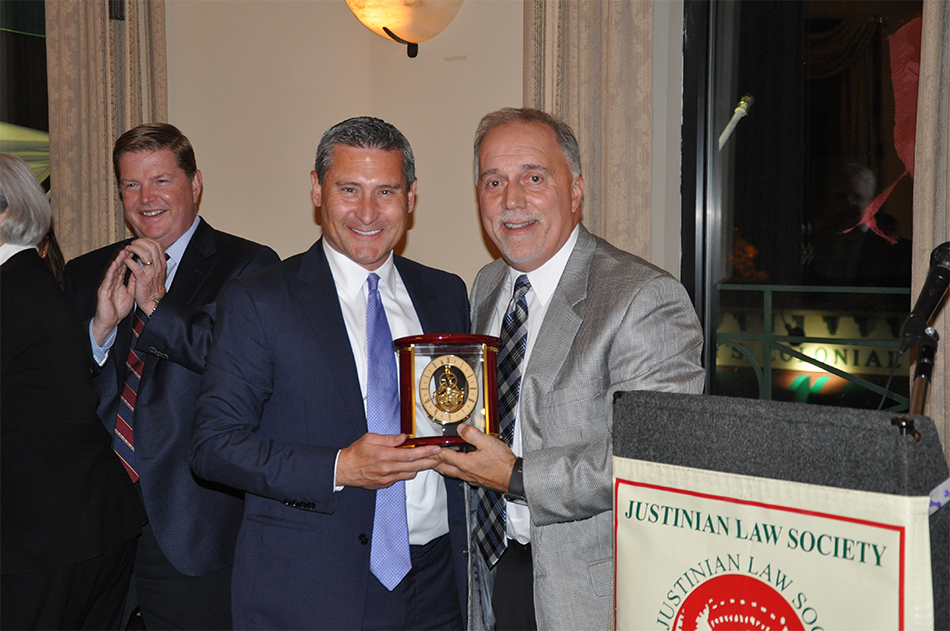 Incoming President Ralph Liguori presents the 2017 Justinian Law Society Distinguished Public Service Award to Hon. Robert M. Ferrieri, Chief Judge – Rhode Island Workers' Compensation Court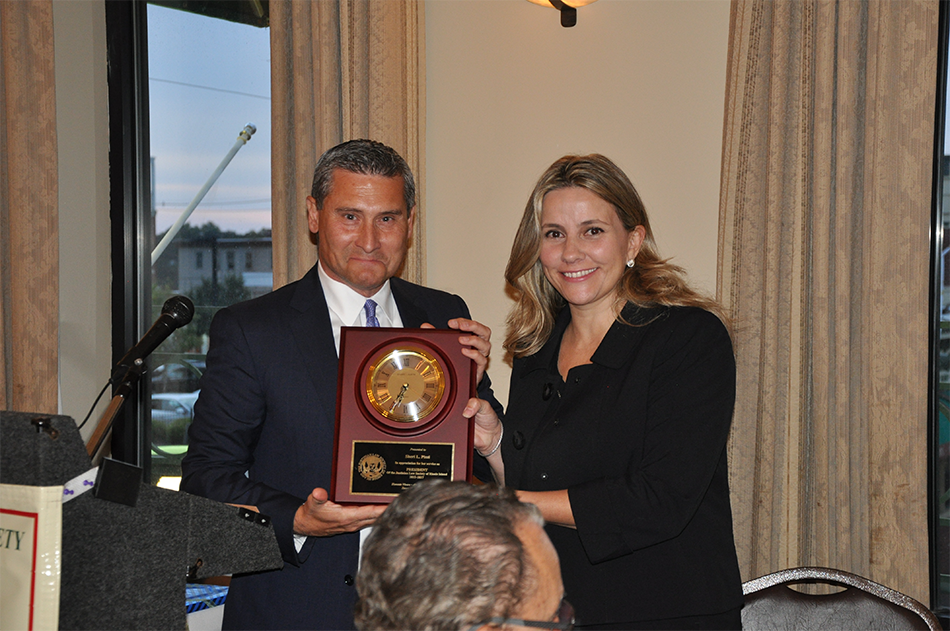 Incoming president Ralph Liguori presents an award to Immediate Past President Sherri Pizzi for her service as President 2015-2017.


---
Chef Walter Cooking Class 2016
---
Ronald W. DelSesto
Distinguished attorney, and Justinian charter member and Past President, Ronald W. DelSesto, passed away on December 30, 2015. He will be long remembered and greatly missed.

DEL SESTO, RONALD WINSTON 75, of Providence, an attorney in the city for more than 50 years with specialization in estate law, died on December 30 in Providence, Rhode Island. The middle son of Rhode Island Gov. Christopher Del Sesto and Lola (Faraone) Del Sesto, Mr. Del Sesto served as general counsel to Rhode Island's first woman Secretary of State, Susan L. Farmer (1982-1986), and for more than 25 years as a member of the American Bar Association's Commission on Uniform State Laws. He was president of the Justinian Law Society and a board member of the National Italian American Foundation. Until 2011 he served as Honorary Vice Consul for Italy. Mr. Del Sesto was a graduate of Classical High School and Georgetown University (1962). After graduation from Boston College Law School (1965), he joined his older brother, Christopher T. Del Sesto, in private practice for several years, then partnered with former Rhode Island Attorney General Herbert DeSimone for nearly ten years. Their offices were in the Hall's Building (circa 1876) on Weybosset Street which Mr. Del Sesto owned until his law office was officially closed in December and the practice merged with Del Sesto and Read. Mr. Del Sesto spearheaded national adoption of several uniform state laws including the Uniform Anatomical Gift Act of 1987. In addition to the law, Mr. Del Sesto was a man of many interests. He was an avid and consummate traveler from Buenos Aires to Venice and music lover of everything from Opera to bossa nova. He co-founded the Umbrian Earthquake Relief Fund in 1997 and was a sponsor of the International Italian Film Festival. He was an avid reader of spy novels and the magic realism works of Gabriel Garcia Marquez. He was also a connoisseur of good food and forever in search of the freshest produce and the perfect loaf of Italian bread. He claimed to have found the latter most often in the bakeries of Silver Lake. He was a dual citizen of the United States and Italy. Mr. Del Sesto is survived by his wife of twenty-one years, Deborah (Elsbree) Del Sesto. Also surviving are three children from his first marriage to Bettina (Buonanno) Del Sesto: Cristina Del Sesto and Ronald Del Sesto Jr., both of Washington DC, and Justin Del Sesto of Fort Lauderdale, FL. as well as a step-daughter Kristen Coleman Dubois of Saunderstown, RI and five grandchildren, Oliver, Riley, Ian, Augustine and Oc?ane, and his brother, Gregory Del Sesto of Ft. Lauderdale, FL. He encouraged his children and grandchildren how to think, not what to think. In this regard he respected education and scholasticism, and lived by the philosophies of St. Ignatius Loyola and St. Thomas Aquinasself-judgment through the continual examination of conscience. A Mass of Christian Burial will be held on Tuesday, January 5 at 10 am in Saint Sebastian Catholic Church, 67 Cole Ave, Providence followed by a burial at St. Ann Cemetery. Memorial contributions may be made to St. Sebastian's Church.

See more at: www.legacy.com/obituaries/providence/obituary.asp


---
Christmas Party 2015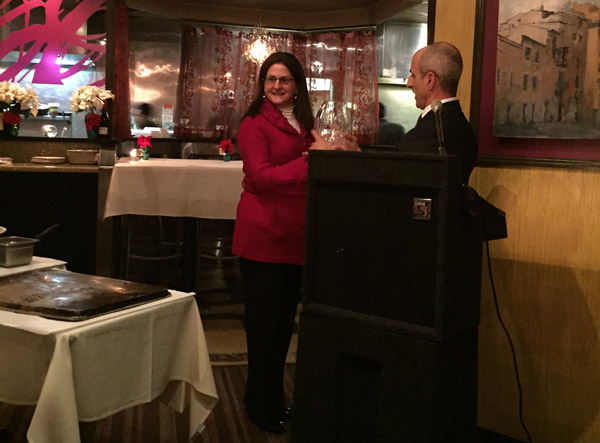 The Justinian Law Society of Rhode Island recently held its 22nd annual Christmas Party. Festivities included presenting the Society?s Pro Bono Publico Award to Laura A. Pisaturo, Esq.

The Justinian Law Society of Rhode Island Pro Bono Publico Award recognizes the outstanding efforts of members who devote their time and legal talent, pro bono, to individual clients, or otherwise undertake work to advance the law for the public good.

Pisaturo?s distinguished career has been rooted in her strong ethical beliefs and commitment to providing equal justice to all. In appointments from three Attorney Generals, she served as the designee to the Rhode Island Commission on Prejudice & Bias, as the Ethics Liaison to the National District Attorneys Association, as the lead member of the Domestic Violence Task Force, the Task Force to End Sexual Violence, the Providence Nuisance Task Force, and as the co-chair of Rhode Island?s first conference on Children Who Witness Domestic Violence. Pisaturo was also the first woman appointed in over twenty years to serve as the Deputy Chief of the Criminal Division. Through her work at the Rhode Island Children?s Advocacy Center and Rhode Island?s rape crisis center, Day One, she focused on programming and legislation impacting child welfare, human trafficking, sexual assault, and domestic violence, and she lead the Children?s Advocacy Center to its first National Accreditation. Since opening her own law practice in 2011, Pisaturo has helped countless families in need of reduced-rate or pro bono assistance in divorce and custody matters. She volunteers and also accepts pro bono legal work through the Rhode Island Bar Association?s Volunteer Lawyers Program and GLAD (Gay and Lesbian Advocates and Defenders). Pisaturo was named a 2014 Lawyer of the Year by Rhode Island Lawyers Weekly.

The Justinian Law Society (JLS) is a professional organization whose purposes include to promote charitable, educational and professional causes, regardless of race or religion; to educate the members and the public on the laws of the United States and Rhode Island, the history, culture, and accomplishments of Americans of Italian heritage and the contribution of the Justinian Code to the world's history and law; to provide a forum to improve the administration of justice, to conduct workshops, seminars, lectures, and other educational events; to generally promote the interchange of ideas and to encourage the cooperation among member attorneys as to all matters concerning the legal profession.

?The Justinian Law Society is honored to present its Pro Bono Publico award to Laura,? said JLS President Sheri Pizzi. ?Her incredible career and commitment to advancing equality and human rights in Rhode Island is inspiring and very deserving of recognition.?

Net proceeds from the Christmas Party will benefit the Justinian Law Society Scholarship Fund.


---
Christmas Party 2014
---
Raymond Dettore, Jr., Esq. Memorial Dedication
---
Italian American Young Professionals Networking Event 2014
---
Bocce Tournament 2014
---
Christmas Party 2013
---
Installation Dinner 2013
---
Bocce Tournament 2012
---


Jan 25, 2012 - NOIAW Epiphany Celebration



The Justinian Law Society of Rhode Island is a non-profit, tax-exempt Rhode Island Corporation and is recognized as a Section 501(c)(6) organization by the Internal Revenue Service. The Justinian Law Society is a state chapter of the National Italian American Bar Association.
---
Home News & Photos Calendar Officers Scholarships Links Justinian I Disclaimer

This website and its content is copyright of The Justinian Law Society of Rhode Island
© The Justinian Law Society of Rhode Island 2010 - 2017. All rights reserved.